Proposed API for RoMEO / JULIET
This use case outlines potential user requirements and technical development considerations for a proposed integrated data-feed API that is able to supply machine-readable, machine-executable information on both publisher- and funder-policies regarding Open Access (OA) publication. The proposed API would support enhanced sharing of data-driven infrastructure functionality across both Current Research Information System (CRIS) and Institutional Repository (IR) platforms.
Description
SHERPA RoMEO API is extensively used by CRISs and other applications for collecting publisher policies in order to tell what full-text version may be attached to a given research publication reference filed in an Institutional Repository (IR). At the same time, the SHERPA Team at CRC/University of Nottingham are working for providing a JULIET API that can provide information on Funder OA policies in a way as simple as RoMEO API.
This use case proposes to develop a joint RoMEO / JULIET API that can simultaneously supply the information related to both publisher and funder policies in a machine-readable, machine-executable way. This feature will be of great use for automatic depositing services such as the RJ Broker and ORI in order to enable them to tell what they may deposit and where they should do it. Besides this, the RoMEO / JULIET API will benefit CRISs, IRs and HEIs that host them. Finally, authors who do not have access to funder or institutional APC funding for publishing in a Gold OA manner will be able to use the RoMEO / JULIET API to know what alternative ways they have for funder mandate compliance.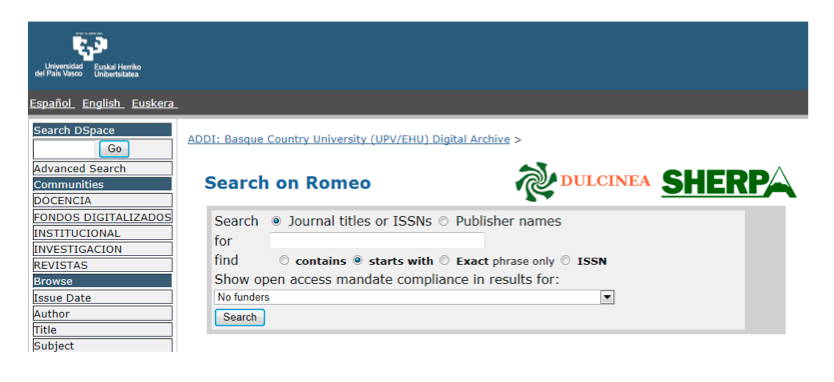 Dependencies
RJ Broker (and ORI) (RepNet Wave 1 components)
SHERPA RoMEO and JULIET APIs (RepNet Wave 1 components)
Usefulness
The RoMEO / JULIET API will provide a key feature to deepen the data-driven infrastructure approach, since it will enable to automatically and simultaneously deal with Publishers' and Funders' Open Access policies. This proposed tool will result in such an enhanced functionality for CRISs and IRs that it could easily get self-funded by asking CRIS vendors to contribute a fee for (extensively) using the new service.
Feasibility
The RoMEO / JULIET API feasibility is totally dependent upon the SHERPA Team at CRC/U of Nottingham. Since they are for all purposes part of the RepNet Team, there are on-going discussions to put together a plan for its development within the RepNet time schedule.